NOLS
Designing a faceted search and component-based content management system
NOLS is a global nonprofit offering outdoor courses in leadership training, wilderness medicine, and other survival techniques. The redesigned NOLS website provides robust search functionality for hundreds of courses annually. These courses vary from one week to a full academic year, and are held across the globe.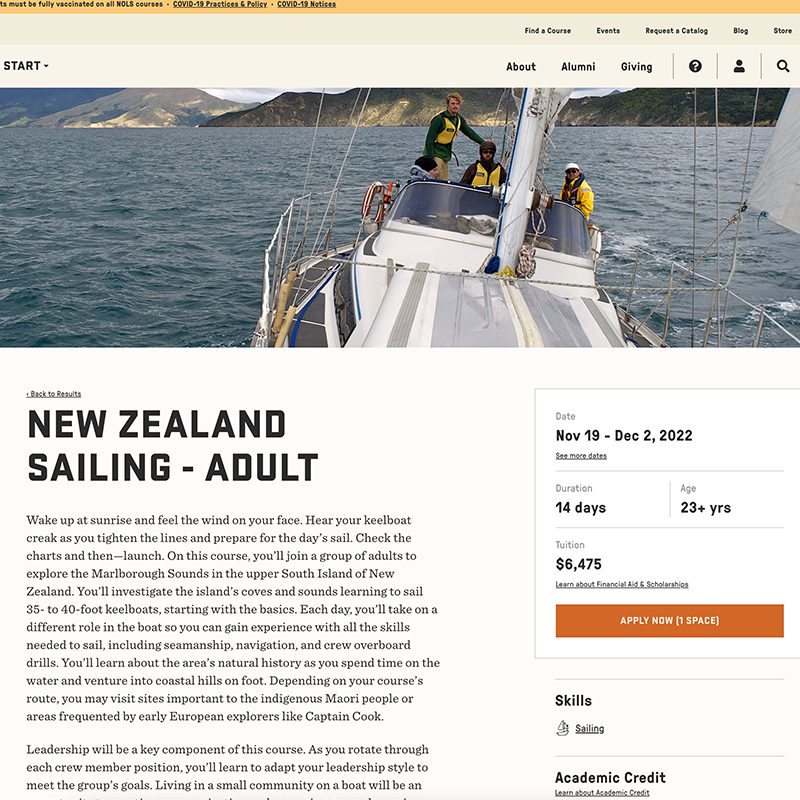 Lincoln Loop's initial engagement in 2016 included a full reimagining of nols.edu using custom-built components. Since then, we augmented their internal design team to iterate on the full site design with new CMS components, and helped improve the experience of the course search engine based on user research.
Front-end performance was a concern for this image-heavy design. Beautiful photography is a key to their marketing efforts, but the majority of the site traffic comes from mobile devices. This required a balance of intelligent responsive image sizing, caching, and lazy loading.
The search interface presented a unique challenge needing to both market courses to new users and serve as a utilitarian tool for experienced users. It offers multiple filters that reinforce the variety of courses offered, and a text entry search which returns meaningful results even if all the filters are ignored. This required ingenuity in both the user interface and the way the data is indexed. The result is a performant application and a pleasant experience that reinforces the experience of the NOLS brand.
With Lincoln Loop we are getting the benefit of both a bespoke solution and design and technical best practice recommendations to ensure we are getting the best possible product and not just what we asked for.

Erin Freed Director of Information Technology, NOLS
Contact us to discuss your project